List of Inductees 2004
Carole
Bishop
Athlete
At 16, Carole Bishop was the youngest Canadian ever to participate in volleyball at the international level - on the National Team at the 1967 Pan- American Games in Winnipeg as the team's starting setter.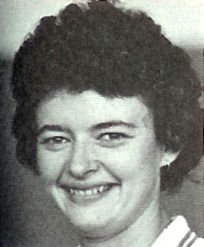 With a twelve-year career as a member of the National Team, she represented Canada at two World Cups (1973, 1977), three All- Balkan Games (East Europe), and three NORCECA Championships winning silver (1973) and bronze (1977) medals. Carole played at three Pan- American Games in which, for 1971 and 1975, she was named All-Star.
In 1972 she trained for 6 months in Japan at the Yashica Club -the first invitation made by the Japanese Volleyball Association to a foreign athlete. Her Coach Moo Park said that Carole was among the best in the world at the '76 Games without the benefit of extensive international competition and coaching. From 1976 to 1978 Carole played full-time in every Canadian match.
B.C. won the National Women's Volleyball (Club) title 13 times between 1967 and 1982 and Carole was a member of each of those teams.
A National All-Star four times, Carole was MVP (setter) at the 1975  All- Balkan Games, MVP (setter) at the 1976 European Tournament, and, at the 1976 Olympics was rated fourth in the world (setter) by the International Volleyball Statistics Committee.