List of Inductees 2015
1980 Junior Women's
National Team
Team
Canada's team at the NORCECA Jr Women's Championship was comprised of athletes ranging in age from 17 – 19, who gathered in Calgary in July in preparation for the event. The Canadian women entered the championship as decided underdogs with the much taller and stronger Cubans expected to take the gold.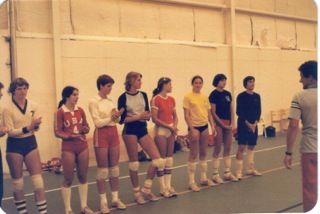 The Canadian women finished the round-robin portion of the event with 2 wins against the USA and Mexico and a loss to the Cuban women.  In the semi-final, the Mexicans extended the match to 5 games but the Canadian women prevailed, earning them a place in the gold medal match.  In the final match, the composed Canadians defeated the undisciplined Cubans in 4 games to win the Championship.
Head coach Michel Gagnon took the team to another level and that success was carried through into the National Team program.  Over half of the athletes on the junior team went on to be a part of the 1980's National Senior Team, and Assistant coaches Merv Mosher and Mike Burchuk also got their start in this developmental program to go on to be part of the coaching staff for the 1984 Olympic Team, with Burchuk carrying on to the 1996 Olympic Games in Atlanta.
Members of the team
Andrea Williams
Gisele Rongve
Bonnie MacRae
Judy Szepesi
Ruth Klassen
Tracy Mills
Rachèle Béliveau
Wanda Guenette
Tara Senft
Anna Bergeron
Joan Buck 
Head Coach: Michel Gagnon
Assistant Coach: Merv Mosher
Assistant Coach: Mike Burchuk
Manager: Doramy Ehling
Trainer:  Gunner Obrascovs
View next picture
View more pictures