List of Inductees 2013
Gino
Brousseau
Athlete
Throughout his career, Gino Brousseau has been recognized as one of the very best and most exciting players in the history of Volleyball in Canada; first as a standout for the Laval Rouge et Or from 1986 to 1990, and then as a member of Team Canada from 1986 to 2000.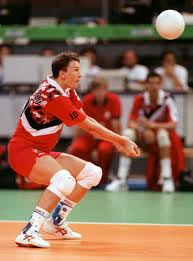 Gino started as a member of the National Junior Team and then moved to the Senor Team from 1986 to 2000, participating in three Olympic qualifying tournaments, culminating in the 1992 Olympic Games in Barcelona. Gino competed in three World League competitions, a World Championship, the World Cup and the World University Games. In 1995 Gino was named as the Best Spiker at the Continental Cup in Calgary and the Best Receiver at the NORCECA championship in Edmonton.
Gino also enjoyed a stellar professional international career competing for 13 years as a professional volleyball player in Italy, Japan and France where he helped his teams win numerous titles.  Gino clearly had an impact during his professional career, winning the French Championship five times and the Coupe de France on four occasions.
Following his retirement as an active player, Gino turned to coaching as a way to give back to the sport, with Canada's Junior National Program, as well as Laval University's Rouge et Or Men's Team.