List of Inductees 2013
Sandy
Silver
Builder
Sandy Silver was an accomplished athlete in a variety of sports; most notably badminton and volleyball. She was the starting setter for the Toronto Blues Women's Volleyball and for York University, the Ontario Women's Intercollegiate Athletic Association East Championship.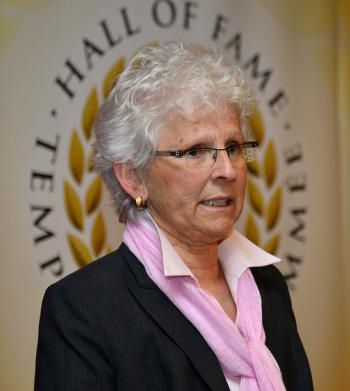 A respected university and international coach, she was the Head Coach at a number of institutions: the Huronia Volleyball Camp, Camp Madawaska, Seneca College and then York University's Women's team, OWIAA gold medallists and CIAU silver medallists in 1979.  She later served as head coach of UBC's varsity women's team, CIAU bronze medallists in 1983. Sandy was also asked to serve as an Assistant Coach with the Canadian National Women's team from 1980 to 1982.
Sandy's accomplishments include volunteer contributions as a Level 3 Referee in volleyball, an organizer for sport events including the Olympiad for the Physically Disabled (1976), the Coordinator of the World Blind Marathon (1982), Chair of the BC High School Volleyball Championships (1980-1982) and others. Sandy was hired as the Executive Director of the Ontario Volleyball Association which, under her leadership, developed one of the most successful provincial volleyball programs in Canada.
Since the late 1980's and to this day, Sandy has stayed very active in volleyball at the BC, regional and national level as a Director of the BC Volleyball Association and chair of their Coaches Committee, as the Convenor of the Canada West Universities Athletic Association Men's and Women's Volleyball Program and as an ongoing mentor coach to numerous past and present intercollegiate women coaches.