Women's National Excellence Program (NEP)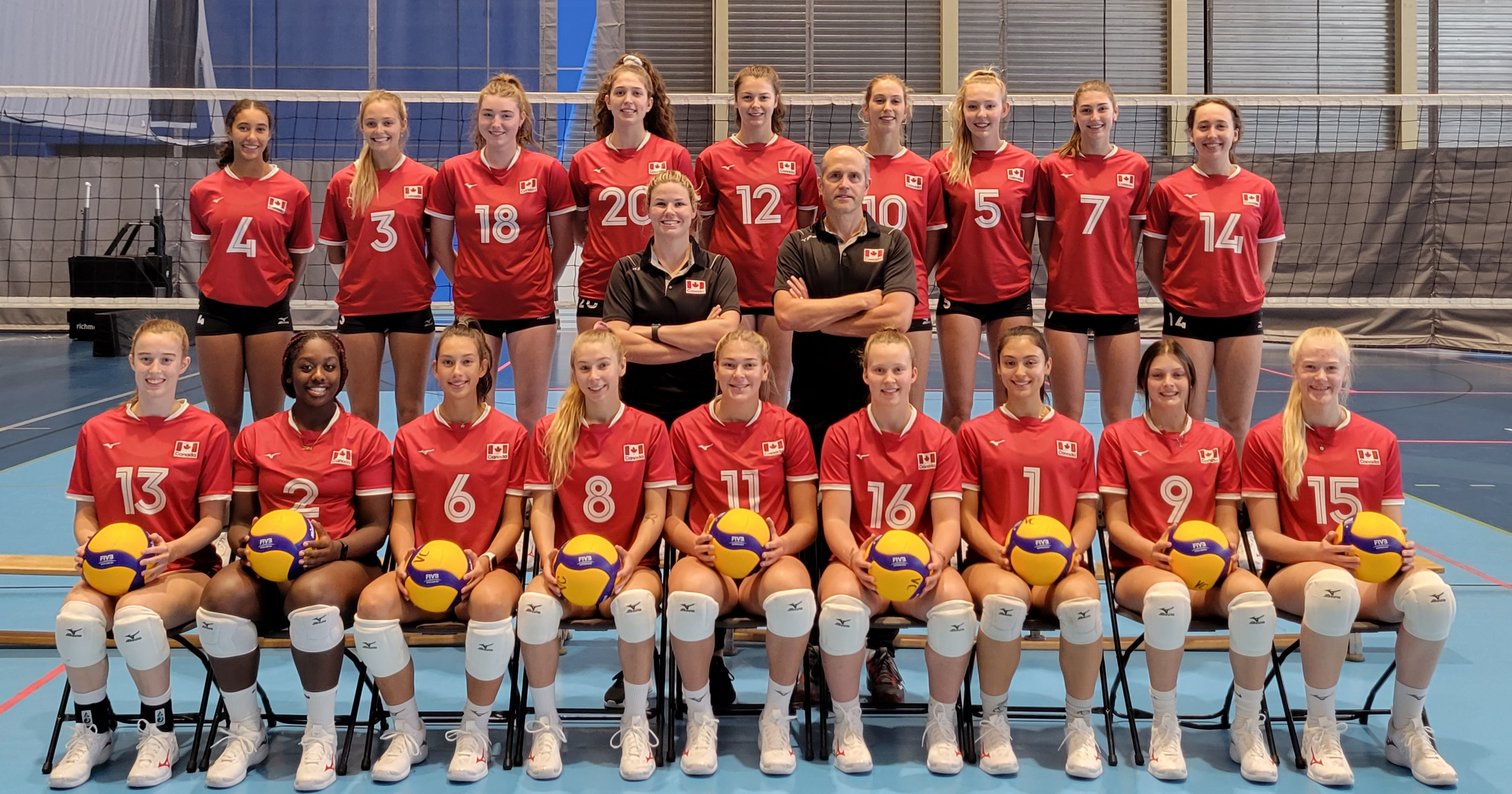 National Excellence Program (NEP)
Program Overview
The National Excellence Program (NEP) is designed to prepare athletes to perform at the highest level of our sport and to continue their development towards the National Senior Team Program and/or playing professional volleyball. It offers individual technical and tactical skill development as well as team play refinement. Athletes are exposed to an array of Sport Science and Sport medicine services, dispensed by leading Canadian practitioners in a holistic high-performance environment. NEP athletes, through training and exhibition competition, are introduced to leading international volleyball programs and clubs.
Those selected to the NEP are committed to an investment in their future as an international athlete competing on the world stage.
For a video overview of the 2020 NEP program, click here.
NEP Information Session and Team Canada Youth -RECORDING
2022 Identification Process (NEP & U18*)
Step 1: Online Application through GMTM
GMTM Registration: https://gmtm.com/virtuals/219/2022-womens-national-excellence-program-nep
Athletes register and create a personal profile including physical stats, highlight video, and full set.
Event Registration: $50 USD
Deadline to register: December 20, 2021 (updated: Dec 9)
Step 2: Athlete In-Person Camp Invitation
Based on their GMTM submissions, athletes will be invited to regional, in person ID camps
Approximately 24-36 athletes will be invited to each camp
See link below for detailed Regional ID Camp Dates and Locations
Invitations will be sent late December-early January.  The athlete invitation  process is ongoing up to the date of the camp.
Step 3: Athlete Selection 
NEP invitations will be finalized in March 2022
Team Canada U18 Girls invitations will be finalized in late May 2022 
Contact Information: Carolyn O'Dwyer (WNT NextGen Coach) @ codwyer@volleyball.ca
*Detailed information on Team Canada U18 can be found HERE
Program Details
Program Overview
The objectives of the National Excellence Program are to: 
1) create a high-performance daily training environment with provincially and nationally identified Grade 10-12 athletes
2) monitor and support the WHOLE athlete through national team staff leadership
3) enhance volleyball skills to match and exceed those of other top nations
4) provide a balance between academic and training demands
Program Details
Athlete Eligibility: Female athletes in Grades 10-12
Location: Richmond Olympic Oval, Richmond, BC
Dates: September to December (approximately 80 training days)
Sport Medicine: IST Staff, including mental health and recommended practitioners will be made available
Athlete Selection: Volleyball Canada will identify and invite 16-20 athletes
Education: Student-athletes complete online courses from their home province and are provided daily face-to-face classroom support from a certified teacher. Three hours of daily study time is integrated within the program schedule, with evenings and weekends free for additional study time.
Living Arrangements: Athletes will reside with a locally approved homestay family
Training: Sessions will vary from on-court, strength and conditioning, education, therapy and recovery
Competition: Travel and competition opportunities with local University and College programs.
Approximate Program Fee: $6000-$7000 + tax (will be confirmed prior to selections)

includes all training, gear, administration, education support, local travel, and homestay expenses
does not include travel to and from training venue in Sept and Dec
does not include any educational related expenses for online registration or out of province students
Check with your PTA for details and/or other sources of subsidies
Additional Information
Nationally identified athletes would be committed for the duration of the program and would not participate in other club or school-based programs during the program (Sept-Dec). This program is designed for athletes who have chosen volleyball as their primary athletic pursuit. Student-athletes may be exposed to other sports during the year as a means to support their volleyball development. Athletes will return to their home school in January and are encouraged to participate in their local club to further their development and regain family/social bonds.
The program would integrate online and/or classroom learning to support excellence in academics while managing a high-performance training load. Students graduating from the program can expect to improve their opportunities to excel in a post-secondary program.
This program also aims to propel Canada beyond the current success of Olympic qualifications to Olympic podium performances.
2020 Roster
2020 National Excellence Program Roster
Congratulations to the following athletes on their selection to the National Excellence Program:
Brooke Malek, AB (Libero)
Chloe Ladd, BC (Libero)
Viktoria Wahlgren, ON (Setter)
Bella Noble, NS (Setter)
Lucy Borowski, BC (Setter)
Mackenzie Pool, BC (Outside)
Maryn Boldon, AB (Outside)
Mady Saris, ON (Outside)
Emoni Bush, BC (Outside)
Tara Garvey, ON (Outside)
Olivia Boulding, BC (Outside)
Jada Hamer, AB (Outside)
Shynelle Woroniuk, AB (Outside)
Jenna Pollock, ON (Middle)
Elyse Allard, SK (Middle)
Payton Lightfoot, ON (Middle)
Grace Melnick, ON (Middle)
2020 National Excellence Program Staff
Shannon Winzer, Head Coach
Nicole Ban, Assistant Coach
Cody Piwowar-Desilets, Assistant Coach & Strength and Conditioning Coach
Mischa Partridge, Athletic Therapist
Dr. Sara Forsyth, Team Physician
Dr. Anne Muscat, Psychologist and Mental Performance Coach
Ashlen Leonard, Sport Dietitian
Beathen Thomas, Educational Support
Dawna Sales, Program Manager
Bree Fraser, Program Coordinator
2021 Roster
Congratulations to the following athletes on their selection to the 2021 NEP:
Jessica Andrews (ON), Middle
Evvia Belireau (AB), Libero
Maryn Boldon (AB), Outside
Olivia Boulding (BC), Outside
Taylor de Boer (BC), Outside
Ava Ebert (ON), Middle/Outside
Tara Garvey (ON), Outside
Kylee Glanville (AB), Outside
Jaime Hewlett (BC), Libero
Lauryn Hovey (ON), Opposite
Lydia Johnson (AB), Opposite
Payton Lightfoot (ON), Middle
Sophia Magus (SK), Setter
Brooke Malek (AB), Libero
Mackenzie Pool (BC), Outside
Naomie Sinclair (QC), Middle
Isabella Tehrani (ON), Middle
Kaiya Tyson (ON), Setter
Viktoria Wahlgren (ON), Setter
2022 Identification Camps
Athletes will be invited to regional ID camps in January based on their GMTM profile submission: 
https://gmtm.com/virtuals/219/2022-womens-national-excellence-program-nep  

Each camp will be approximately 4 hours (2 sessions) with 24-30 athletes invited.
January 8- Richmond
January 9 - Okanagan
January 15 - Edmonton
January 16 - Calgary
January 22 & 23: Ontario, Athlete Institute, Orangeville (2 camps)
January 29 - Montreal
January 30 - Halifax
Feb 5 - Saskatoon
TBD - Winnipeg
More details to follow for each location & date.